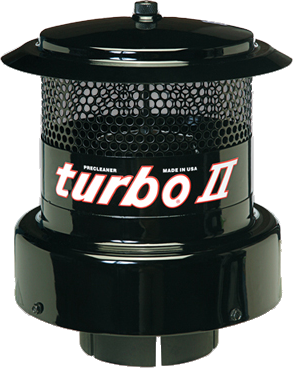 turbo® II Precleaner
turbo® II performs it's job in the toughest environments day in and day out. The unique design is all about preventing micro-abrasive dust from entering the machine's engine creating cleaner air to prolong the engine life. turbo® II is the industry standard precleaner by which all precleaners are judged.
From its durable metal construction to its high efficiency and low restriction across the entire range, turbo® II is chosen worldwide by equipment operators for installation on loaders, graders, crushers, haulers, mixers, and mining machines. Anywhere a high level of protection is needed and where dust is an issue, the turbo® II is a must.
turbo® II Precleaner Highlights:
Extends engine air filter life
"Top Down" air flow design
100-1100 CFM
4 sizes offered
Self-powered and self-cleaning
Reduces engine wear and prolongs engine life
Maintains effective engine breathing for maximum efficiency and power
Minimizes costly down time
Easy install.
Heavy duty stainless steel band clamp
turbo®II Patented Design
The patented metal designed turbo® II is the only metal precleaner that offers a "Top Down" air flow by drawing dirty air through the protective screen at the top of the unit. turbo® II Precleaners have aerodynamically designed overlapped vanes that force the incoming air to spin and causing separation of dust and dirt from the air by centrifugal force. The dust and debris then spins down the wall of the main chamber and into the blower chamber where the high velocity spinner forces the dirt to the discharge ports at the base of the unit. As the velocity of the primary air stream increases, it ejects out additional dirt and debris providing the cleanest possible air to the filter element. This design offers exceptional balance between added restriction and efficiency.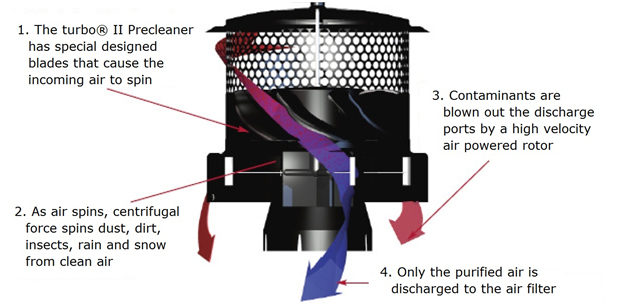 Competitors Design
Competitors typically use "REVERESE AXIAL" designs. This means that the air is drawn in through the base of the unit and then must make a "U" turn which adds restriction and reduces the power of the engine. Additional restriction to the engine will cause the need for more frequent engine filter replacements.
Model Information
turbo® II is currently manufactured in four sizes and covers a CFM range from 100 to 1100 CFM. Additionally turbo® II offers a similar model made out of high strength glass-reinforced polymer that is lighter in weight and easier to install, the turbo® III.
Tested:
All turbo® Precleaners are independently tested to industry SAE J726 and ISO 5001 standards.
Request Engineering Drawings