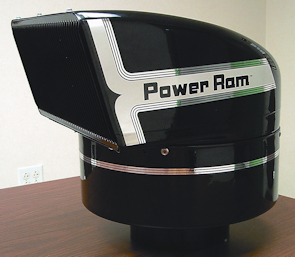 turbo® III Power RAM™
A rugged, heavy duty pre-cleaner for a wide variety of applications where directional flow is desired. The Power Ram pre-cleaner covers the broadest flow range with excellent efficiency and low restriction. It's on a variety of machines including construction, mining and on-road applications, this pre cleaner utilizes RAM effect to achieve high pre-separation efficiency, extending the life of your primary air filter and saving you money and limiting down time.
Some applications require our Y-Pipe for two Power RAMs mounted side-by-side.
Power RAM™ Highlights
400 – 1500 CFM
Improves engine performance by delivering more air to engine at highway speeds. Saves Fuel!
Louvered screen prevents plugging from snow or ice build-up.
Reduces air-intake restriction at highway speeds.
Extends air filter element life by removing most rain, snow, dust, etc., from intake air.
Reduces re-entry of sooty exhaust air into air-intake.
Rugged and light-weight metal construction
Directional air intake: Face away from heavy airborne debris
Wide 13.5"x6" (343mmx 152mm) intake area with louvered screen
Wide flow range 400~1500 CFM per unit
Rugged metal construction with an e-coat finish to guard against rust, chemical attack, and corrosion
Base mounting comes with clamp in three sizes: 6" 152mm, 7" 178mm, or 8" 203mm
Various reducers available to adapt to your application
Power RAM's are installed on: Chippers, Tub-grinders, Mulch Machines, even older Cab Over Trucks still in service!
Heavy duty stainless steel band clamp
turbo® Power RAM™ Design
Small and Extra Large sized units are made from Polymer with 25% glass center. The Large units are metal with a powder coat finish.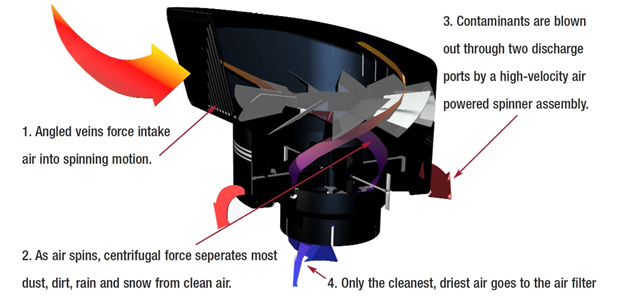 Model Information
turbo®




POWER RAM Precleaner

Inlet Size Base

Outside Diameter

Height

Weight

Product Description

Model Number

CFM Range

Inches

mm

Inches

mm

Inches

mm

LBS

kg

Separation Efficiency Curve

Power Ram 6″
21-1080002
500-1500
6″
152.4mm
13.5″ x 14.5″
342.9mm X 368.3mm
13.25″
336.55mm
9lbs
4.08kg
Click Here
Power Ram 7″
21-1080003
500-1500
7″
177.8mm
13.5″ x 14.5″
342.9mm X 368.3mm
13.25″
336.55mm
9lbs
4.08kg
Click Here
Power Ram 8″
21-1080004
500-1500
8″
203.2mm
13.5″ x 14.5″
342.9mm X 368.3mm
13.25″
336.55mm
9lbs
4.08kg
Click Here
Tested:
All turbo® Precleaners are independently tested to industry SAE J726 and ISO 5001 standards.
Request Engineering Drawings