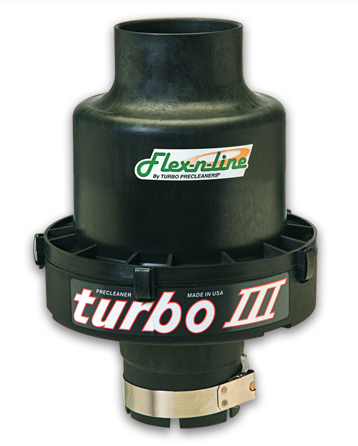 turbo® III Flex N Line™
Powered by same smooth and efficient rotor as our turbo III is the turbo® III Flex-N-line™. The Flex-N-Line™ offers designers and installers the advantage to install a rotary ejective precleaner that has the performance to operate efficiently under the hood. Low in restriction and efficient across a wide operating range, Flex-N-line is a good option for off-highway machines like cranes, tele handlers, skid steers and other machines where space is limited.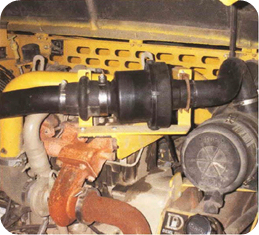 turbo® III Flex N Line™ Highlights:
The only inline available on the market
Extends engine air filter life
"Top Down" air flow design
75-475 CFM
2 sizes offered
Under Hood Air Intake Precleaner
Utilizes existing air intake
No holes in hood
No impaired vision
Better engine efficiency
Power and fuel-efficient
Plastic
Cool air to the engine
Straight thru flow
Easy Installation
Low Maintenance
Heavy duty stainless steel band clamp
turbo® III Flex N Line™ Patented Design
turbo® III Flex-N-Line™ is made out of 33% glass-reinforced polymer (nylon 6), and is designed to be installed in line with the engine and out of.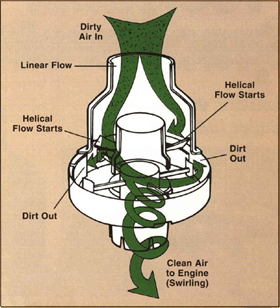 Competitors Design
No other competitor offers an "under the hood" precleaner. The turbo® III Flex-N-Line™ is the ONLY in-line rotary ejective precleaner model available on the market.
Model Information
turbo® III Flex N Line™ is currently manufactured in two sizes and covers a CFM range from 75 to 475 CFM.
Not interested in an in-line precleaner, check out our turbo® III model.
Inlet Size Base

Outlet Size Base

Outside Diameter

Height

Weight

Inches

mm

Inches

mm

Inches

mm

Inches

mm

LBS

kg

Separation Efficiency Curve

3″
76.2mm
3.46″
87.88mm
5.27″
133.86mm
10.7″
271.78mm
Click Here
4.5″
114.3mm
4.97″
126.24mm
7.5″
190.5mm
12.88″
327.15mm
Click Here
Tested:
All turbo® Precleaners are independently tested to industry SAE J726 and ISO 5001 standards.
Request Engineering Drawings